History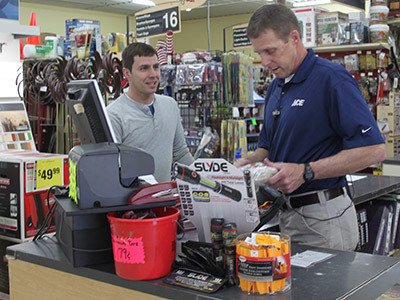 Akridge Farm Supply was founded in 1933 when Thomas Ruble (T.R.) & his wife Rosalie Akridge opened up on Main Street in Fredonia, KY.  In 1959 their only son, Dean joined the business. Following Dean's arrival, the store relocated to "the old cheese factory" building on Wyatt Street which is now its present location.
In 1982, a second store was added in Eddyville and in 1988 both stores joined the Ace Hardware cooperative.
In 1989, Dean's son Paul joined the family business. Paul and store personnel moved the store in 1994 from its 3,000 sq ft building to its current location, a new 10,000 sq. ft. store on Fairview Avenue.
Today, Paul's son Logan works at the Eddyville location making Akridge Farm Supply & Ace Hardware a fourth generation family business.
Here at Akridge Farm Supply & Ace Hardware we are dedicated to providing high quality goods and services to Western Kentucky farmers, contractors, and homeowners. Our goal is to solve our customers' problems in the most helpful way possible. We will deliver on this promise by having knowledgeable and friendly team members and well maintained, easy-to-shop facilities.
Community Involvement
Akridge Farm Supply & Ace Hardware Helping in the Community! As a locally owned business, we at Akridge Farm Supply & Ace Hardware depend on our community to support us. We believe it is important for us to return that through supporting local causes and charities. We show this support through service to the local Chamber of Commerce and by sponsoring other worthwhile causes such as the Children's Miracle Network, high school sports programs, and Little League, just to name a few. Please read more about the events and sponsorships that are such an important element of Ace Hardware.